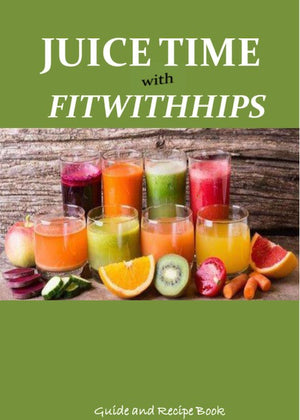 Juicetime Book
Juice recipe and guide book of high-energy juices, cleansing juices, weight loss juices, and more—the number of juicing recipes that boost your health are virtually endless. In one complete reference, Juice time with Fitwithhips Recipe Book packs only the best vitamin-rich juicing recipes so you can get your body in top shape, lose weight, increase your energy, detox your system, or maintain a healthy lifestyle. Each recipe is ideal for Brain-Nourishing, system alkalizing, Skin health, meal replacement and more.
The Book includes:
A Kick-start Guide—Learn what juicing is, the types of juicers to fit your

 

lifestyle, which ingredients to keep on hand for your juicing recipes, and how to prep fruits and veggies.

18 Juicing Recipes—Fill your glass with healthy recipes using ingredients you wouldn't normally put together.

A Quick-reference—Juice storage, waste disposal and how to juice cleanse.

Bonus 12 Smoothie Recipes— blend it up with the tastiest smoothie recipes packed with key nutrients and antioxidants and flavor the entire family will enjoy.
Unlock the full benefits of your health using a juicer machine and feel the difference with The Fitwithhips Juice Guide & Recipes Book.
Studies have shown that a juice cleanse can improve the microbiome of the gut, even after the cleanse is finished, promoting a healthy immune system, reduced inflammation, and the ideal conditions for healthy weight loss.
A juice cleanse isn't a diet. It's an intervention that you can use periodically to cleanse your way to good health and kickstart weight loss.
e-book *this item is a digital download
Hardcopy *this item is a physical copy