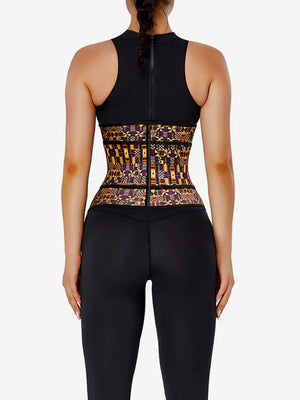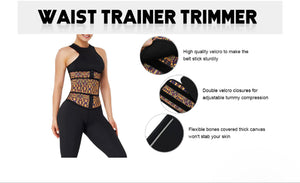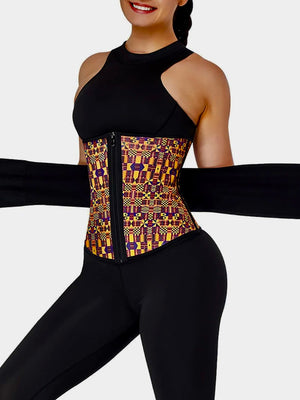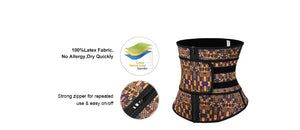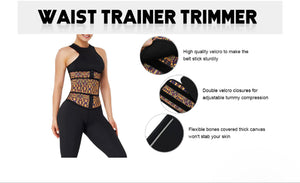 AFRICAN WAIST TRAINER *preorder
The zip front full compression African printing design waist trainer that can't go unnoticed features 7 steel bones with adjustable belt  for super control of abdomen, back and waist. The core is made of latex which helps with weight loss and waist sculpturing and shaping. Our front zipper makes it easy to wear, gives you slimmer appearance  thus providing optimal back support.


 Features; 
Full coverage compression support during workout
Reduces waistline
Tightens and tones midsection
Increases midsection thermal activity
Reduces back pain
Provides support during squatting and lifting
Adjust straps to desired tightness
Comfortable to wear during workout, sleeping, or leisure activity
Postpartum shaper
No slipping Available in sizes S-3XL
*waist measurements are in inches if unsure of exact size or in between sizes please order a size up
INSTRUCTIONS FOR PUTTING ON YOUR WAIST TRAINER


STEP 1
Wrap the band around your waist at the smallest part of your midsection, generally around your belly button area.
Bring the two ends together and ensure the zipper is connected properly before you start zipping.


STEP 2
Once the band is around your belly button, connect the two sides and begin to pull the zipper up.
Pull the bottom of the band down after zipper is all the way up.





STEP 3
Secure the double velcro straps after zipping. Do not overly tighten straps.
You are ready to get fit and fabulous in your FITWITHHIPS waist trainer.
Note: the straps can be left undone and open when doing abdominal exercises.